A bit delayed, but here is the account of Naja's birth.
Maria started to have contractions Monday (the 13'th) morning. While the contractions where painful, they where also short of of duration and irregular in frequency. In the evening Kamille showed the first symptoms of chickenpox.
Tuesday morning Kamille was showing quite a few chickenpox. Maria continued to have irregular and short of duration contractions during the day.
The night to Wednesday was horrible: Maria's contractions got worse and so did Kamille's chickenpox. Thankfully, my parents was able to come and pick up Kamille in the morning.
At 11 o'clock Wednesday (the 15'th) the water broke and the contractions got worse, longer in duration, and with higher frequency. At 12:30 we went to the hopital and at 15:10 Naja was born. The birth went well with no complications, and the midwife and midwife student were really nice.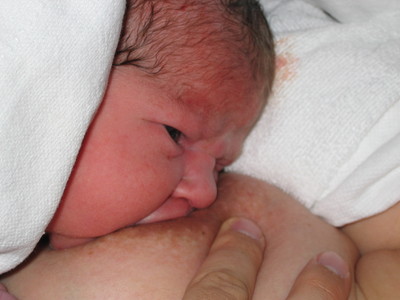 Naja latched on to Maria without any problems and started to suck away immediately, within 10 mins after the birth. Naja's weight was 3806g and she was 54cm long.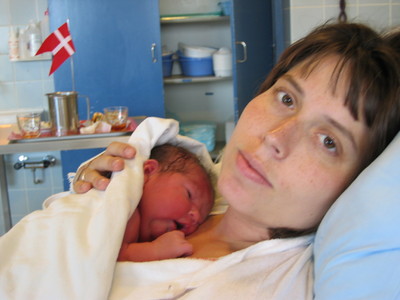 At six o'clock Kamille, our parents and siblings came to greet Naja welcome to the world. Kamille demanded right away to hold Naja, and that wish was granted.
Maria, Naja, and I spend the night at the hospital in a so-called "family-room" (Kamille wasn't allowed at that ward because of the chickenpox. At 9:30 Thursday morning we left the hospital and I picked Kamille up at my parents. Dispite the chickenpox Kamille had an enourmous reserve of love for her littlesister. The first few days was a bit stressful because of the chickenpox (Naja was an angel). On saturday the chikenpox finally got better, and so did family life.
I have uploaded an album with 43 pictures from the birth.